Reliable Duct HVAC Leak Expert Services
For a FREE Consultation with a Certified Air Balance Consultant, fill out the form or just call!
Duct HVAC Leak
One place that the orifice is utilized extensively in the field is as part of a duct pressure test kit. The orifice itself is normally mounted in a solid piece of pipe and is supplied with its own calibration curves. This orifice tube allows the easy determination of the air volume passing into an isolated section of duct under test so that the amount of leakage at a given pressure can be found.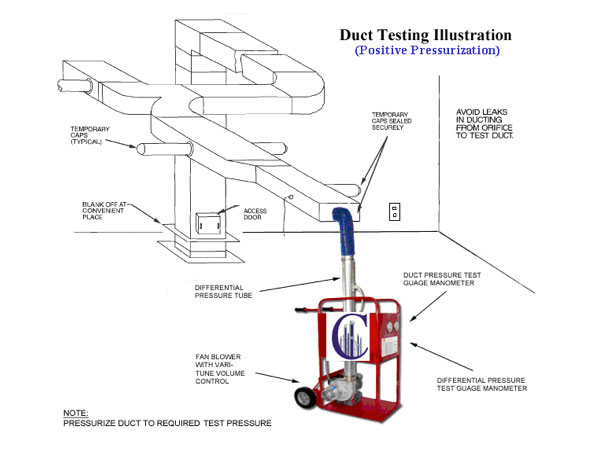 The method for determining duct leakage and the allowances are normally found in the project specifications. One method is the straight percentage method. If the specifications state that the high-pressure duct is allowed I% leakage at 1.5 times operating pressure, then the entire high pressure portion of the duct system should be isolated and pressurized to approximately 1.5 times the unit's external static pressure. Sometimes this is not practical, and the duct system must be tested in segments. Each segment is allowed a portion of the overall 1% loss. The amount allowed in the segment can be determined, by determining what part of the total system surface area this segment represents.
This procedure begins to get complicated in large installations. One method that has addressed the issue of loss versus duct surface area is a SMACNA duct leakage test based on duct seal classification and leakage factors per square foot of duct. The test procedure is identical to the straight percentage test however the preparation requires that the entire square feet of surface area of each class duct and the proportion being tested be known before the test begins. A great deal of time and effort goes into the preparation so the test can be accomplished properly. For details, see the current SMACNA HVAC Air Duct Leakage Test Manual.
---
---